---
Governor initiates probe against Tilka Manjhi vice-chancellor
Posted: 11 May 2011 01:35 PM PDT
Patna, May 11 (PTI) Bihar Governor Devanand Kunwar, in his capacity as the chancellor of state universities, today directed retired IAS officer B B Lal to probe a slew of charges against the Bhagalpur-based Tilka Manjhi University's Vice-Chancellor K N Dube.
A notification was issued by the Governor's principal secretary Afzal Amanullah on the order of the Governor by exercising his powers under the Bihar State Universities Act, 1976, Kunwar's Public Relation Officer (PRO) Lilakant Jha said.
He said Lal has been asked to complete the probe against the vice-chancellor within a month and submit a report to the Governor in the stipulated time.
Dube has been accused by the teachers and other non-teaching staff of misbehaviour, administrative mismanagement and demanding illegal gratification for favour, Jha said adding the accusations against the former were found true during a preliminary probe.
India's first epic tourism park themed on Jatayu
Posted: 11 May 2011 01:34 PM PDT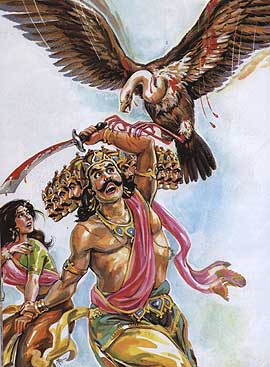 Thiruvananthapuram, May 11 (PTI) A 1000-feet high rocky hill cluster at Chadayamangalam in south Kerala, believed to be connected with mythical character 'Jatayu' in epic Ramayana, will woo tourists as the country's first 'Rock Theme Park'.
According to local tradition, the rock, 'Jatayupara' in Kollam district, is the place where the mythical bird 'Jatayu' fell after its wings were slain by the ten-headed Ravana by his lethal sword 'Chandrahasam'.
As per the epic, Ravana, who ruled Lankapuri (Sri Lanka), chopped off one of the wings of the bird when it tried to block his airship 'Pushpaka Vimanam' in which he was forcibly taking away Rama's consort Sita.
The project is a blend of ecological and epic tourism and the state government, through this public-private partnership venture, is building a high-tech theme park on the rocky terrain with a mammoth statue of 'Jatayu' as its core.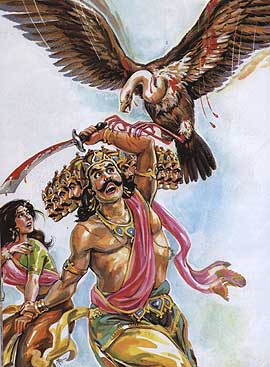 Sehwag's absense is a major blow says Delhi Coach
Posted: 11 May 2011 01:30 PM PDT
Chennai, May 11 (PTI) Admitting that losing captain Virender Sehwag is a big blow for the struggling Delhi Daredevils, coach Greg Shipperd said they face an uphill task as they take on a formidable Chennai Super Kings in an Indian Premier League match here tomorrow.
While Delhi struggled for a major part of the tournament, whatever little they achieved was due to Sehwag's brilliance, and the big-hitting opener's absence would surely be felt.
"Viru's absence will be a huge loss for us as he is the holder of Orange cap. He fired in each of the matches that we won. He would be missed both as a captain and a key player," said Shipperd in a pre-match media conference today.
"It is going to be a very tough assignment for us to beat the Super Kings in their home ground.
Illegal flats in Commonwealth games village to be destroyed
Posted: 11 May 2011 01:29 PM PDT
New Delhi, May 11 (PTI) Seventeen flats in Commonwealth Games Village in east Delhi, allegedly constructed in an unauthorised manner, will be demolished soon with the DDA issuing an order in this regard.
According to the Delhi Development Authority, the flats were constructed illegally in the upper basement of the Games Village and it has now sent a notice to private developer Emaar-MGF for carrying out the demolition.
"An order has been issued for demolition of the unauthorised constructions by the Director of DDA Building Department, who has quasi-judicial powers in this regard. As per the norms, the developer itself can demolish the illegal parts. If it does not do so, then the DDA will demolish the structures," a DDA official said.
The housing agency is yet to give completion certificate to the rest 1,168 flats in 34 towers.
Health related grievances to be addressed fast via a tollfree no
Posted: 11 May 2011 08:21 AM PDT
PATNA: Bihar government on Monday launched a grievance redressal mechanism wherein people of the state can lodge their complaints related to health issues with the state health department to get them addressed in a time-bound manner.
Inaugurating the scheme, health minister Ashwini Kumar Choubey said people can now dial a toll-free number — 1911 — and register their complaints. He said during his 'Gram Swasthya Chetna Yatra', people came to him in large numbers with their complaints. It was, therefore, felt necessary to develop a mechanism where all complaints get lodged, so that they are redressed on time.
Terming the plan a continuation of 'Swasth Bihar Muhim', Choubey said the mechanism would bring transparency in the functioning of health department and check corruption. He said, "Any person can come forward and lodge his complaint on health concerns that include hospitals, doctors, medical staff and NGOs, and action would be taken on it."
The minister hoped this would bring change in the present work culture and added he would himself monitor the scheme every week.
Health secretary Sanjay Kumar said people can lodge their complaint in three ways – on toll-free number, 1911; through SMS on mobile number 9711981981; or through Internet on the website of the State Health Society (SHS) where a link of 'grievance redressal system' has been provided. In all the three ways, the system would automatically generate a complaint number, which would help the complainant to use it for further reference.
Those lodging complaint by dialling the toll-free number would be given a complaint number by the call centre employee instantly, while those sending text messages through SMS would get their complaint number through message, Kumar said adding an e-mail would be sent to those who lodge their complaints online on the SHS website (www.statehealthsocietybihar.org). People can also record their suggestions so that the grievances could be redressed in an effective and phased manner, he said.
Choubey, on the occasion, announced that after the successful launch of 'Nayi Pidhi Swasthya Guarantee Yojana' providing health cards to 3.4 crore children under 14 years, the government was in the process of making a road map to provide health cards to students, widows, senior citizens and physically challenged persons. "We are evaluating how they can be integrated into health insurance schemes," Choubey said, adding the state government aimed to provide heath insurance to its 10 crore people. "We aim to provide health cards to every family of the state," he added.
100 year old cemetry in Patna getting revived by Govt
Posted: 11 May 2011 06:15 AM PDT
Patna: The Sabzibagh Government Christian Cemetery in Patna was closed in 1886 during the British rule as not much space was left there for more burial. The cemetery remained closed for 125 years and no burial took place — and it should have remained so forever — but for the last couple of months some 'development work' has been conducted here by the Bihar government apparently to 'revive' it. However, locals are skeptic about the real motive of the government move as a closed cemetery cannot be used again for burial, according to Christianity.
The Minority Welfare Department of the state government had sanctioned some amount for welfare of Christians. This past March the amount was going to lapse. An idea struck in the mind of Block Development Officer of Patna Sadar under whose jurisdiction falls this cemetery. And he came up with the plan to revive this closed cemetery without taking into account the fact that a closed cemetery cannot be used for burial anymore and that's why it was not used since it was closed in 1886.
Old graves began to be covered with sand. A new mortuary was constructed. Old fencing walls were replaced with new ones and the strong iron gate whereon depicted the official announcement "The cemetery is closed" was also removed and a new entrance is being constructed.
The news spread and reached Abu Qaiser, president of Muslim United Front who lives in the area. On March 11, 2011 he wrote a letter to Chief Minister Nitish Kumar and a copy of which was sent to Opposition Leader, heads of all political parties, state Chief Secretary, Home Secretary, Commissioner, Patna Division, and Patna DM. He informed them about the 'loot' of the minority welfare fund and urged for an enquiry
Taking notice of the letter, the state government ordered an enquiry and a Regional Development Officer in the office of Commissioner, Patna Division was assigned the probe.
On 30th April, RDO Uma Dattwar along with ADM, Patna visited the cemetery that is located in front of Pirbahor Police Station in Sabzibagh area. Locals and some representatives of social organizations informed the probe team about the history of the cemetery. They told the team that there may be a conspiracy to capture the land. They may be planning a mall here.
Mohd Abu Bashar, vice president, Minority Welfare Association, who also represented before the probe team, talked to TCN about the issue.
"It seems the BDO is making money out of it. The government cannot revive a closed cemetery. They want to grab it. They first want to change its face and then convert it into a market as they did with a Church land in the neighborhood in the past. The present Hathua Market (Khaitan Market) is standing on Church land," Abu Bashar said.
Why doubt the intension of the government officer? "If they were really willing to spend the minority welfare fund on Christian graveyard, why didn't they do it at those Christian graveyards which are in use? The Christian cemeteries in Agamkuan, Peermohani and Shahganj could have been developed," answers Bashar.
He further alleged that more than Rs 22 lakh are being looted in the name of the revival of this closed graveyard.
The locals also say that this cemetery is closed for more than one hundred years and they never saw any burial in their lifetime. "No body has been brought here for burial. This cemetery is closed since the British rule," says Mohd Jawed, a shopkeeper near the gate of the cemetery. Mohd Ibraheem, a saloon owner on the other side of the entrance, says: "I have never seen any dead body being brought here for burial. People are objecting the present development work at the cemetery because the old graves are being covered with sands. People still come even from London to visit the cemetery and lit candles on graves of their dear ones."
Mohd Neyazuddin is living inside the cemetery for generations. He is a sort of guard of the cemetery. "I have never seen any burial, nor had my father in his life time," says Neyazuddin and adds: It is said some government fund has come and so they are doing this development work. I have no objection and how can I do any with a government work? But he taunts: "It is not certain if people are getting bread but the dead are being provided protection."
But what is surprising element of the story is the silence of Christians and the neighboring Church.
"Earlier they said they had no knowledge of the new work. In written I informed them about all is happening at the cemetery. Yet, they are not coming out to oppose it, says Bashar whose Minority Welfare Association is headed by Father Scaria Mamotil.
TCN team reached the Catholic Church cum Archbishop's House at the stone's throw from the cemetery to get their version. But they declined to meet citing some scheduled engagement.
Meanwhile, the 'revival' work is going on at the cemetery even nine days after the visit of the enquiry team. Bashar's demand to halt the construction work pending the probe has remained unheeded.
What will you do if the work is not stopped? "We will launch protest and hold sit-ins. What else can we do? We cannot take on the government," says Abu Bashar.
Sourced from:  http://twocircles.net/2011may09/christian_cemetery_closed_british_being_%E2%80%98revived%E2%80%99_bihar_govt.html
CM House lit by Solar power now
Posted: 11 May 2011 03:15 AM PDT
PATNA: Chief minister's official residence, 1 Anne Marg, will no longer depend on power supply fromBihar State Electricity Board (BSEB). This sprawling building and the adjacent house, which is being converted into the CM's residential office, will have their own system for lighting.
"I am soon going to introduce solar power system here," Nitish told media people on the sidelines of 'Janata Ke Durbar Mein Mukhyamantri' programme on Monday. "Not only the lights and fans but even the air conditioners and pumping sets will run on this system," he said.
The CM said he was fighting for Bihar's cause with the Centre, but without much success as the authorities sitting in Delhi were not in a mood to address the genuine demands of the state. "I know people take solar energy as a joke but I will strictly implement it here," said Nitish, who appears quite impressed with the green cover of Bhutan. He also appealed to people to help preserve the environment. He plans to develop his Anne Marg residence into a greenhouse.
Nabinagar thermal power plant's construction started
Posted: 11 May 2011 12:11 AM PDT
Aurangabad (Bihar), May 8 (PTI) Construction work for the proposed 1980 MW thermal power plant at Nabinagar in Bihar's Aurangabad district began today following resolution of the compensation-related issues of local farmers, official sources said.The demand for adequate compensation by the farmers for their land acquisition for the proposed power plant being constructed in a joint venture by the NTPC's subsidiary unit Nabinagar Power Generation Company Ltd and the state government has been finally resolved after over a four-and-a-half month deadlock, the sources said.All the parties, comprising farmers, district administration and the construction company, mutually resolved the issues during three stages of dialogue held among them to sort out compensation-related issues, they said.Following the resolution of the farmers' demand for compensation, the construction company has started the levelling of the acquired land for construction of the proposed thermal power project, the sources added.The farmers had launched a violent agitation during which they had stoned a speeding train and clashed with the police early this year alleging inadequate compensation in lieu of their land acquisition.