---
Bihar police helps kid to reunite
Posted: 07 May 2011 05:42 PM PDT
Little Sohail has no words to express how he feels just at the thought of getting a hope to return to his family any moment now.
Though Sohail had very faint memories of his native place Churakutti in Bihar, the police back in his home-state have been able to connect one link to the other and are hoping to knock at his door very soon. "Though we failed to find any village called Churakutti in our district, it is advisable to get in touch with the Chakulia police station near the West Bengal border. There is a big market called Rampur around which is the Shahpur market that Sohail said they sold their farm," said Sanjay Jha, the SHO of Kochadhaman Police Station in Kishanganj district
Though Jha did not have the number of Chakulia police station, his phonebook luckily had the number of AS Mishra who had once got in touch with him as the officer in charge at Chakulia. We called Mishra, who has now been transferred from Chakulia but gave an important input regarding how it would be better to call the Goalpokhar police station in North Binjapur district since that was closer to Churakutti village. When we called on the number given by Mishra we seemed to have clearly hit a jackpot.
Sub-Inspector PB Das of Goalpokhar police station identified all the locations mentioned by Sohail and also confirmed that the area is popular for turmeric farming as Sohail mentioned. We told Das about Sohail lately mentioning a Maulvi Mukti Shabbir at one Islampur High School. Das confirmed that Islampur is one of their regions sud-division and that they shall get in touch with the said Maulvi soon.
The developments have overwhelmed not just Sohail but also Christina D'Souza who has been taking care of him in Mumbai for over a month now. " Reuniting him with his family will be our dream come true and we shall hope he remembers us fondly in his home town and impresses his villagers with the English he has learnt with us," said a grinning D'Souza.
Get growth and development stories of Bihar daily to your inbox
Salman to share his income with Bollywood Workers
Posted: 07 May 2011 02:05 PM PDT
Mumbai, May 6 (IANS) Bollywood star Salman Khan, also known as the Hindi film industry's enfant terrible, says he wants to help workers in filmdom by sharing his income and also work for the underprivileged in society.
'Right now, I want to give a percentage of my earnings from the film that I will start to workers of the film industry,' Salman told IANS, adding the amount is not fixed yet. 'It can be half of the remuneration; it can be one percent.'
'Even if everyone gives half a percent (of their remuneration), it will be huge money.
'The government takes 30 percent from (the industry) plus the entertainment tax. Where does it (money) go, I don't know. I know that the money, whatever small percentage we give, should go to the workers in the film industry,' said the actor who gave two back-to-back hits with 'Wanted' and 'Dabangg'.
The 45-year-old actor says he will first strategise his initiative and then take action.
'I have to sit with all the heads of the (film workers') associations and find out where the maximum amount of money is required. And the money would go there,' said Salman whose 'Ready' will hit the screens June 3.
Directed by Anees Bazmee, 'Ready' is a remake of a Telugu comedy of the same name and also stars Asin Thottumkal who teamed up with him in 'London Dreams'.
The actor's life has been dotted with legal troubles and other unpleasant incidents – if he was involved in a hit-and-run case and blackbuck killing, he has also been known for picking up fights with fellow actor Shah Rukh Khan and allegedly hitting his girlfriends.
But it seems now Salman has left them behind and set his sights on noble causes. In fact, he says he will mix work with social work by utilising some time and money for underprivileged people while promoting a film.
'I haven't started publicising the film ('Ready') as yet. The way I will promote it is being finalised. Now the new funda has come up that you need 15 days to promote a film. Whenever these 15 days come, I will make sure there are 15 to 20 places where I can go and help those people under Being Human and come back,' said Salman referring to his NGO Being Human.
'When I go to these places, I would see who needs money and help. This money will not go to the administration. It will go directly to those kids who need it. Two or three operations will happen every day. When you go out for something like this, let's not waste time by just smiling. That's the biggest fraudulent act one can ever do,' he said.
The actor has planned to reserve a sum of the promotional budget to accomplish his charity work and hopes other actors will catch on.
'You are going to special children, underprivileged children, cancer patients and giving just a smile. What after that? I hope people, after me, catch up to this one thing and hope there is a competition on how much charity they do while going for the promotion of their film. Instead of spending the money on promos, PRs and all that stuff, let the money go into the country,' said Salman.
(Dibyojyoti Baksi can be contacted at dibyojyoti.b@ians.in)
Get growth and development stories of Bihar daily to your inbox
Did you know about Osama's another house in Abbottabad
Posted: 07 May 2011 02:00 PM PDT
New York, May 7 (PTI) Slain al-Qaeda chief Osama bin Laden lived in a small village close to the Abbotabad highway for more than two years before moving into a larger compound in the Pakistani garrison town in 2005, according to the dreaded terrorist's Yemeni wife who is now in custody.
The woman told investigators that bin Laden lived with his family for nearly two-and-a-half years in the village of Chak Shah Mohammad, a little more than a mile southeast of the town of Haripur, on the main Abbottabad highway, the New York Times reported quoting two unnamed Pakistani officials.
One of the officials pointed out that this meant that bin Laden had moved from the rugged terrains of tribal villages to the relatively urban settings sometime in 2003.
Get growth and development stories of Bihar daily to your inbox
Haunted 3D-The comprehensive review
Posted: 07 May 2011 01:57 PM PDT
Cast: 
Mahaakshay Chakraborty, Tia Bajpai, Arif Zakaria, Achint Kaur
Directed by Vikram Bhatt
Rating: *
The prospect of getting horrified in three-dimension could be promising. But Indian horror films have rarely gone beyond chalk-faced spirits in Halloween costumes grunting like death-metal vocalists. Here you have just that, in 3D. And the most interesting thing that pops out of the screen is one character's nose. And as incredulous as it may sound, you can actually count the blackheads and even join them to form a shape, if you will.
The story is about Rehan (Mahaakshay Chakraborty) who has just returned from the US. Appropriate look: squirrel hairdo, leather jacket, neck scarf: check. He's headed to Ooty to sell off a family property (which is haunted), so appropriate expression: bewildered: double check. In fact he probably rehearsed the expression so well that his forehead is crinkled even in one of his intimate scenes.
Once he reaches the haunted house, Glen Manor, he is welcomed by a sound similar to Hard Kaur clearing her throat mixed with rodents making love. And if this wasn't enough evidence, the spirit actually makes an appearance in the form of a piano-playing-ceiling hanging damsel from the 1930s (Tia Bajpai), who communicates her sob story through a letter. Clearly moved by her story and smitten by her beauty, our American desi boy makes his life's mission to avenge her death. And of course, he also bumps into several chalk-coated severed heads lying at different places in the sprawling mansion. He tries to confide in a friendly neighbourhood Parsi gentleman, who calls him and idiot. He shoots back, "I'm not an idiot, I am an MBA!" Sure, you can't be an idiot, unless you've bought a ticket for this movie too.
And since no Bollywood horror film is complete without the interference of religion, our dazed hero heads to the closest church, where Father (Mohan-yes-my-child-Kapoor) briefs him on spirit behaviour. 1- Spirits are most powerful at 3am and weakest at 3pm (afternoon siesta?). 2. You must never take the name of the devil (pseudo-names, pronouns- good to go). 3. To capture this evil spirit, you have to go to a Dargah (why can't Father use his own God to solve this? He only caters to Holy Spirits?). And after a dreary monologue on good over evil, he sets Rehan off on his journey to fight the spirits, armed with wishes and a promise that he would pray for him.
This movie also involves some time travel, an evil spirit raping a cute spirit, a lot of heavy breathing and a chillum-smoking 'Baba' who magically blows away wounds, brings good luck and plays another secret role in the film.
The film paints a beautiful landscape and 3D enables you to relish the foreground even better. Also, the SFX will jolt you out of your seat atleast once in the film. But the effortlessly idiotic dialogues and overuse of the word 'spirit' all point towards a half-spirited writer. The film also includes veteran actors Arif Zakaria, who is most expressive in his spooky avatar and Achint Kaur who is scary enough as her natural self, let alone otherwise. The film's music doesn't pump up the spook value but is loud enough to keep you awake.
Your parting lessons from this movie would be many. Spirits can't read, can be stabbed with wooden logs, are combustible and even though they can run on air, make and break brick walls, once left inside a latched door, they're, well, trapped. Moral of the story: if you're willing to put up with a few eerie scenes, you will be rewarded with many laughs.
You can reach me at guha.kunal@rocketmail.com or connect with me on Facebook
Reproduced From
http://in.movies.yahoo.com/blogs/movie-reviews/haunted-movie-review-190042020.html
Get growth and development stories of Bihar daily to your inbox
Dona to support Pune Warriors this time
Posted: 07 May 2011 01:53 PM PDT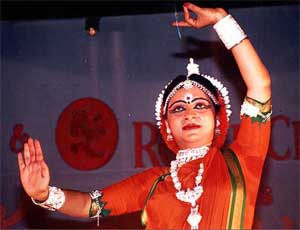 Shillong, May 7 (PTI) Former India captain Sourav Ganguly's wife Dona will be among the thousands of cricket crazy Kolkatans who will root for Pune Warriors India when they take on Kolkata Knight Riders at the DY Patil Stadium in Navi Mumbai on May 19.
Asked which team, she would support now that her husband has joined Pune Warriors, Dona was forthright in his admission. "I will be among many fans in Kolkata who will be supporting Pune Warriors."
After being ignored at the auctions earlier this year, Ganguly was picked up as a replacement of Ashish Nehra after Pune Warriors lost six games on trot.
"I run a dance school and my students are performing in various cultural programmes but does that mean I stop performing.
Get growth and development stories of Bihar daily to your inbox
Woman Mountaineer from Jamshedpur to triumph Everest in a week
Posted: 07 May 2011 01:52 PM PDT
Jamshedpur, May 7 (PTI) The 43-year-old mountaineer Premlata Agarwal, who set her journey to scale Mt Everest on March 25, is progressing well and is expected to touch the peak by next week, her sponsors said here today.
"The monitoring team has tentatively marked down May 13 as the summit date but it still depends on the weather, which has been very erratic this year," a statement issued by Tata Steel, who are sponsoring Premlata, said.
"At the moment, Premlata is doing very well and has acclimatised strongly. She is now ready for the final summit push," expedition leader for Mt Everest expedition Dawa Stephen Sherpa said.
She will undertake the summit push from base camp (18,000 ft) on May 9 with an aim to stand on the top of the world around 8 am on May 13.
Get growth and development stories of Bihar daily to your inbox
Knight Riders beat Chennai using Duckworth-Lewis method
Posted: 07 May 2011 01:47 PM PDT
Kolkata, May 7 (IANS)
isciplined bowling and rain helped Kolkata Knight Riders beat defending champions Chennai Super Kings by 10 runs via Duckworth-Lewis (D/L) method in their Indian Premier League match here Saturday.
In a rain delayed match, Knight Rider stifled Super Kings to 114/4 in their 20 overs on a slow and moist track and then raced away to 61/2 in 10 overs when skies opened up.
After revising the target as per D/L method, the Knight Riders were found 10 runs ahead.
Knight Riders lost skipper Gautam Gambhir (16) and Eoin Morgan (5) for 33 runs. Jacques Kallis was batting on 21 and Manoj Tiwary 15 when rain interrupted for the second time.
The win has taken the Knight Riders to second place with 14 points while Super Kings are at third place with 12 points.
Electing to bat, Subramanium Badrinath was the lone bright spot in the Super Kings innings, scoring a brisk 41-ball 54 runs with three fours and two sixes.
Tight bowling by Knight Riders bowler stopped super Kings from scoring a single boundary till the ninth over. Badrinath opened the account by swatting a six off Yusuf Pathan in the tenth over.
The defending champions were off to a false start losing opener Murali Vijay (5) to an easy caught and bowl off spinner Iqbal Abdulla in the fourth over.
Pathan then dismissed Suresh Raina (4), caught by Kallis at midwicket, in the sixth over to reduce Super Kings to 15/2.
Michael Hussey (15) and Badrinath then put on a 34-run stand for the third wicket to steady the innings but Lakshmipathy Balaji separated the two. Hussey was caught at midwicket by Morgan at midwicket in a bid to accelerate the scoring.
Badrinath, however, stood like a rock. He brought up his 50 off 37 balls and forged a 65-run fourth wicket partnership with Albie Morkel who made a run-a-ball 30 not out with three boundaries.
Badrinath was finally dismissed on the last ball of the innings when he was run out in an attempt to take a difficult single.
For Knight Riders, Iqbal Abdulla (1-15), Yusuf Pathan (1-25) and Balaji (1-33) took a wicket each.
Get growth and development stories of Bihar daily to your inbox
Nitish invites Bhutan King to visit Bihar
Posted: 07 May 2011 07:32 AM PDT
PATNA: Chief minister Nitish Kumar on Thursday invited Bhutan king Jigme Khesar Namgyel Wangchuck to visit Bihar along with queen after his soon-to-be-solemnised wedding.
"Your visit will give a boost to the tourism and provide you an opportunity to learn about the socio-cultural traditions of Bihar, the land of Buddha," Kumar told the world's youngest reigning monarch when he called on him at his palace in Thimphu.
Kumar was accompanied by Indian ambassador Pavan K Varma and the delegation comprised principal secretary (tourism) Deepak Kumar, principal secretary (energy) Ajay V Nayak and information and public relations department secretary Rajesh Bhushan, among others.
The Oxford-educated king hailed CM Kumar for helming development in Bihar. He talked about close Indo-Bhutan relations since the period of his grandfather. He also told him about the concept of GNH (gross national happiness) and explained it involves overall development of body, speech and mind; that is development of health services, democratic values and educational resources respectively.
The 30-year-old monarch told the visiting CM that Bhutan measures national progress on the basis of GNH. GNH is a term invented and proudly embraced by Bhutanese since 1972.
Kumar also met Bhutan's economic affairs minister Khandu Wangchuck who was all praise for Bihari workers and said they played a major role in the development of Bhutan. Several Bihari traders run business establishments in Thimphu and Phuentsholing cities. "Many salons in Bhutan are also run by barbers from Bihar. The royal barber is also from your state," the minister told Kumar.
Kumar discussed with Khandu issues of mutual interest, specially sharing of energy with Bihar from Bhutan's hydel power plants and enhanced cooperation between Bihar Tourism Development Corporation and Royal Bhutan Tourism Council to explore possibilities of joint marketing in tourism sector.
Later, Bihar's principal secretary (tourism) and director general of Bhtuan Tourism held discussions.
Bihar public relations department also organized a cultural programme at which the department's artistes depicted various dance forms. Several ministers and officials of Bhutan attended the Bihari cuisine fest at hotel Taj Tashi and liked the taste of 'litti-chokha' as well as 'jalebi'.
On Wednesday, the CM had a meeting with Bhutan Prime Minister Jigme Yoser Thinley besides home and cultural affairs minister Nangsi Lyonpo Minjur Dorji. Bhutan has expressed its desire to build a 'stupa' in the Buddha Memorial Park at Patna. Kumar said the Bihar government will allot land to Bhutan to construct monasteries in Bodh Gaya and Rajgir. He invited Thinley to lay the stones of the monasteries.
Kumar along with Dorji went to see the 169-ft statue of Lord Buddha being sculptured on the Kuensel Phodrang hills.
Get growth and development stories of Bihar daily to your inbox
Mechanized facility to process soiled notes installed at RBI Patna
Posted: 07 May 2011 03:30 AM PDT
PATNA: With the installation of a modern currency verification and processing machine at the Patna office of Reserve Bank of India (RBI), the city is now one of the five centres across the country to have the mechanized facility to process soiled notes.
The machine was inaugurated by RBI regional director M K Singh. RBI deputy general manager Aditya Kishwar said the bank has adopted a 'clean note policy' to promote circulation of quality currency notes. For this, constant withdrawal of soiled notes from circulation is necessary, he said and added the mechanized system can process one lakh notes in an hour.
Get growth and development stories of Bihar daily to your inbox
A first person encounter with Anna Hazare
Posted: 07 May 2011 02:06 AM PDT
It is a first person account from Air Marshall Raghu Rajan  who met him in his own village years back, and came back impressed.
I met Anna Hazare,in1998,during a visit as an Air Cmde from DSSC,alongwith my friends,Ravi Burli and Kalaichelvan.We were then in Ahmednagar at the Armd Corps Centre and school.Having arranged a vehicle to take us to Ralegaon Siddhi,we drove along the Nagar-Pune road,till a friendly ex-army sub directed us.As we entered RS,the road was lined with trees on either side!
The road then took a dip and we entered a verdant village,full of greenery .
We met Anna rebuilding the temple with other villagers.My idea was to find out how a Naik ASC driver,could have transformed a village,steeped in the making of hooch,to this green village,and had been awarded the Padma Bhushan and the Padma Shri.
When Anna arrived in his village,everything was in his words,imported.The villagers were busy collecting wood to burn and heat the still,and when they started removing th temple wooden beams,it was the last straw!He had Rs20,000/ as his commuted pension,and he used this to buy bricks to replace the beams ans make the walls stronger.The villagers were ashamed at this,and joined hands.He identified water availability as the crux,and with the advice of the Irrigation dept,he made a series of check dams,using chain-link pieces and stones,to hold the small runoffs,till the base,where he built a concrete dam to hold the water during the rains.
His efforts were so successful,that in one year,the water table rose by 12 ft,and water from then on was available to the village on a perennial basis.He then convinced the villagers to adopt-Nasha Bandhi,Nas Bandhi,Chara Bandhi(they were to cut the grass and feed it to the cattle,instead of letting them roam at will and denude the hillsides of precious grass),100% literacy,no caste discrimination and care for the girl child!Water made Ralegaon Siddhi self sufficient in grain,fruits(they started selling Mangoes, Chikoos, Bananas,Papayas etc),and in his words,the GDP of each villager to Rs 3000/.
They built a double storey building for their residential school,were no student would be failed-a revolutionary idea!
When an SC person was facing financial difficulties,he mustered funds,got the person out of trouble,and even collected funds to arrange for his daughter's marriage!
When I asked why I did not see a domino effect,he put it to leadership.He told me that he did not marry,as it would have diverted his attention from bringing up the village-it took 20 years of hard toiling effort.He did not accept any financial help from my side,as he said that it would lower him in his eyes-he had refused to accept 1000$ from a German TV unit for that same reason.
When we left,I saluted him,as I felt deeply humbled in the presence of a man who had achieved so much, in his life
That is Anna Hazare…………………………………………………
Adapted from http://iamdaarji.blogspot.com/2011/04/who-is-anna-hazare.html
Get growth and development stories of Bihar daily to your inbox