---
Bihar to have soon the database of Blood Donors
Posted: 14 Jun 2011 08:16 AM PDT
Patna, Jun 13 (PTI) Bihar would soon have a database of state-level blood donors to boost voluntary blood donation and reduce the expenses on maintenance of blood in blood banks, according to Bihar State Aids Control Society. Society's Project Director Sanjiv Kumar Sinha told reporters that the process of database of blood donors would begin soon as there has been significant rise in number of blood donors in Bihar during the past five years. "Now now we will register the persons desirous to donate the blood to make the database.. we will open up a club of such donors," he said. Sinha said the new system would help reduce the cost on maintenance and test of blood in blood banks and will also not not allow wastage of blood. He laid stress on intensive campaign for voluntary blood donation and noted that against national average of 62 per cent of donation of blood, Bihar records on an average 38 per cent voluntary blood donation. According to the Figures available, during 2006-07, 53,592 units of blood were collected, but there was marked improvement in collection which went up 1.16 lakh units during 2010-11, he said.
Deoghar Bridge collapse causing harassment to pilgrims
Posted: 14 Jun 2011 06:10 AM PDT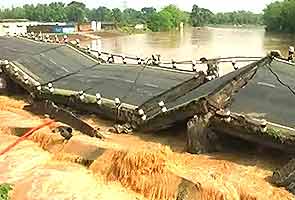 The bridge, a part of the state highway connecting Sarwan, Chakai, Jasidih and Chopa was on the Jasidih-Deoghar stretch.
It served as a vital link to Jamui and Banka in Bihar, and would have been used by thousands of pilgrims returning to the neighbouring state after offering prayers at Deoghar's Baidyanath Dham and Basukinath during the mela, which begins on July 16 this year.
According to reports, 11 of the bridge's 14 supporting pillars gave way, throwing traffic out of gear. The Deoghar district administration diverted the traffic via Rohini, forcing vehicles en route Jasidih to cover an extra five kilometres.
PWD executive engineer for Deoghar Jai Prakash Singh said the bridge, construction of which was completed in 1978, collapsed due to last night's heavy rain.
"The river was in spate and the swift current eroded the already weak pillars of the bridge further," he said, adding that an alternative solution would be worked out soon to cope with the rush of pilgrims, once the river subsided a little.
As construction of a new bridge would take at least a couple of years, the authorities were looking at setting up a bailey bridge over the river as a stopgap measure.
Meanwhile, BJP MP from Godda Nishikant Dubey and Deoghar's RJD MLA Suresh Paswan demanded a thorough probe into the incident, alleging poor quality of construction was responsible for today's incident.
"The way the bridge collapsed shows lack of supervision on the part of the authorities concerned," Paswan said after visiting the site.
Speaking from Canada, Dubey expressed concern over the incident and demanded immediate alternative arrangements to ensure minimum inconvenience to pilgrims and others.
PWD officials too admitted that poor quality of construction could be the reason why the bridge collapsed but pleaded ignorance when asked how much the project had cost and the name of the executing company involved.
Meanwhile, local residents said the Army should be called in to build an alternative bridge immediately.
Yet others expressed the fear that another bridge on the same river, near Rohini, could meet a similar fate.
Bihari among top 3 in the SRM university results
Posted: 14 Jun 2011 04:10 AM PDT
Holders of the top 10 ranks in the B Tech stream of the SRM University's Engineering Entrance Exam (SRMEEE) were awarded the Founder's scholarship at the university's Kattankulathur campus here today. Counseling for the academic year starting 2011 also commenced today.
More than 1.36 lakh candidates appeared for the SRMEEE this year, out of which the top 10,000 have been called for counseling. Vaibhav Kumar of Jharkand secured the first rank.
T Ramkumar of Tamil Nadu and Kumar Gopal of Bihar scored the second and third rank respectively.
The Founder's Scholarship entitles the students for a 100% waiver on tuition and hostel fees and gives them a monthly stipend of Rs 1000. Merit scholarships are also awarded to those scoring above 90% in CBSE or State Board examinations.
Those ranking above 8000 in the SRMEEE can apply for this.
Vice Chancellor of SRM, P Sathyanarayanan, said, "Last year, we gave away scholarships worth Rs 12.2 crores. This year, we expect it to go up to Rs 15 crores."
Scholarships based on sports, economic backwardness and physical disabilities were also given, he said.
The scheme of offering admissions to district toppers is being continued this year as well. Last year, two district toppers had joined.
The relatively new courses, which are in great demand, are nanotechnology and nuclear engineering. Both were launched last year and have become popular this year.
The Vice Chancellor also said that the reason students opted for SRM was the placement cell especially for engineering. He also discussed future projects of the university, including their sports academy, satellite launch and entrepreneurship cell.
Girls out-perform boys in Madarsa Board Results
Posted: 13 Jun 2011 09:08 PM PDT
Patna: Girls have created history by securing top ranks in Class 10 examination conducted by the Bihar Madrassa Education Board, officials here said.
Nasra Khatoon, of Dakhi village of Madhubani district, has secured the first rank in Class 10 (Fauquania) level examination and Umme Eman of Baunsi village of the same district has bagged the second rank, a board official aid after the results were declared Wednesday.
Maulana Ajaj Ahmad, chairman of the Madrassa Education Board of Bihar, told IANS here that these girls have made a new beginning.
"They have proved that girls can also top examinations conducted by the madrassa board like the CBSE, ICSE and the Bihar State Examination Board," he said.
Girls studying in madrassas have taken the lead not only in the Class 10 level (Fauquania) but also in other examination conducted by the madrassa board.
In the Fauquania exam, 66,988 girls passed whereas the figure for boys stood at 43,233. Similarly, in Maulavi exam (Class 12 level), more girls — 37,391 — passed as compared to 33,332 boys.
"Girls have outperformed boys in the Class 10 examination of the madrassa board," Ahmad said, adding that this year, of the 27 students who shared the top ten ranks n Fauquania examination, 21 were girls.
In the Madrassa board exams, girls have been doing better than boys for the last few years, he added.
Bihar has over 4,000 madrassas, including over 1,118 state-run Islamic schools. There are 2,459 unaided madrassas and hundreds of others operating at different places.
According to the first ever status paper brought out by the Bihar State Madrassa Education Board, there are only 32 madrassas for girls under the government-aided category and 576 in the unaided category. Bihar Muslim women have a low literacy rate of 31.5 percent only.
You are subscribed to email updates from Biharprabha News
To stop receiving these emails, you may unsubscribe now.
Email delivery powered by Google
Google Inc., 20 West Kinzie, Chicago IL USA 60610